Gallery...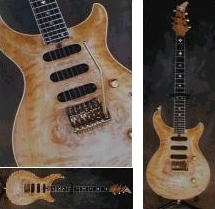 Customer : David Smith
Serial Number : 54390
DOUBLE CUTAWAY, CARVED TOP.
Birds Eye Maple through neck and body. Quilted Maple front.
Ebony fingerboard. ADM tremolo and Bartolini pick-ups
Gallery Pictures Electric Guitars Page 033.
Ray Cooper Guitars - Electric Guitars
, Specialising in Vintage Restoration, Custom Made Guitars, Guitar Repairs.